People celebrate their heritage in many different ways. Just a few have the privilege of honoring their culture and heritage as public servants. That's what U.S. Congresswoman Judy Chu has been doing for the past 14 years since she became the first Chinese American woman elected to Congress.
"As a young girl, I never actually thought I would be in elected office—let alone a Member of Congress. That's because I never saw anyone who looked like me in such a position," she recalls. Growing up in her hometown of Monterrey Park, Judy realized that the makeup of the city council did not represent the city's population, so she ran and won a seat in the city council. In 2009 when she for Congress and won, she made history.
"I'll never forget the day after my election when President Obama called me from the White House to congratulate me on becoming the first Chinese American woman elected to Congress in history!"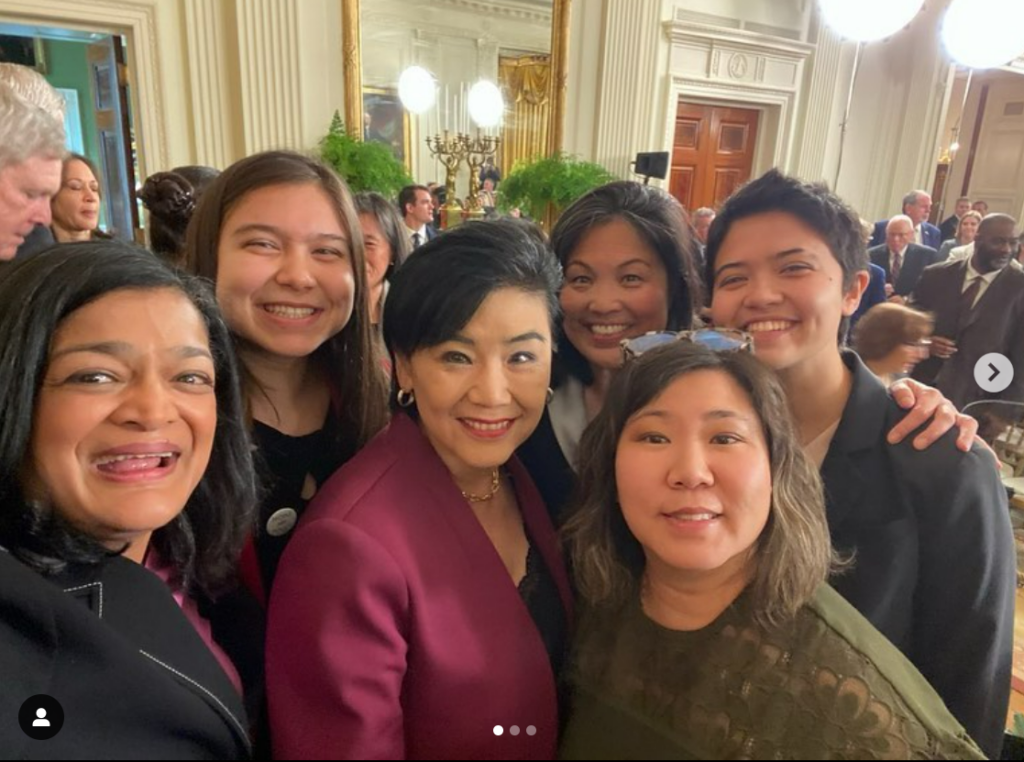 Congresswoman Chu's heritage has influenced her to advocate for the interests of the Asian American, Native Hawaiian, and Pacific Islander (AANHPI) communities not just in Los Angeles but across the nation by elevating their contributions through legislation to end hate crimes against Asians that spiked after the pandemic.
"We passed the COVID-19 Hate Crimes Act and the bill that allows for the possible creation of a National Museum of AAPI History and Culture—both of which were signed into law by President Biden. We are continuing to focus on improving community safety and addressing the roots of anti-Asian hate through teaching the history and contributions of AAPIs to Americans across the country. "
The tragedy that occurred in her hometown on the eve of the Lunar New Year in January, when eleven people of Asian descent were gunned down and killed in a Monterey Park ballroom, prompted her to introduce legislation to require outreach to immigrant communities to educate them on "red flag laws" and other gun safety measures in their language and appropriate- culture way for prevention.
"I believe any tragedy demands that we think critically about how we can prevent other communities from experiencing the same horrific tragedy. In this case, authorities learned that there were individuals in the gunman's life who knew that he was experiencing a life crisis and isolating himself while stockpiling guns and ammunition. Unfortunately, due to a lack of public education coupled with linguistic and cultural barriers, none of these individuals were aware that this was something that could have been reported to the police under newly established red flag laws."
Two issues in her work in Congress are ending homelessness and creating more affordable housing. She also believes that expanding home ownership is one of the most powerful ways to build community wealth, particularly in underserved communities that lacked historical access to housing.
"That is why I consistently support increased funding for programs like the Community Development Block Grant, HOME Investment Partnerships, and Housing Counseling Assistance to help those who are struggling to afford a place to live."
"One of the most powerful tools we have available is working through the federal appropriations process to provide Community Project Funding (CPF). Through CPFs, I proudly secured $7 million over the past two years for the San Gabriel Valley (SGV) Regional Housing Trust's Affordable Housing Pipeline, which goes directly toward the acquisition, construction, and renovation of affordable housing projects," she said. "And I am working to secure even more funding for the Pipeline this upcoming fiscal year, so that we can make the San Gabriel Valley and Southern California a more affordable place to live."
The new regional housing agency Los Angeles County Affordable Housing Solutions Agency (LACAHSA), kicked off its first board meeting on May 17 with elected officials representing all 88 cities of the County and citizen experts. The agency is primed to fundamentally change how L.A. approaches housing as a region by preserving, protecting, and producing affordable housing.
As a federal representative, Chu believes her job is to make sure that local government and housing agencies have the resources and tools to address homelessness.
"I want to do my part to help them succeed, which is why I request full funding for the many important housing programs administered by the Department of Housing and Urban Development (HUD). Those include vital programs like Project-Based Rental Assistance (project-based vouchers), which help jurisdictions like Los Angeles County build permanent supportive housing development and therefore increasing the much-needed supply of housing at prices that working families can afford."
She explained these vouchers would help increase housing stock by creating new units and decreasing prices for all residents. " I look forward to seeing Los Angeles County continue to build the tools needed to tackle the homelessness crisis."
By Esmeralda Fabian Romero
Esmeralda is the Content & Communications Manager at United Way of Greater Los Angeles. She is also a veteran journalist formerly covering education in Los Angeles and is currently a journalism adjunct instructor at the USC Annenberg School for Communication and Journalism. Follow @EsmeFabianED
STAY CONNECTED WITH UNITED WAY OF GREATER L.A.

📱Follow Us!
Instagram | Facebook | Twitter | LinkedIn | TikTok | YouTube

📩 Stay United, Stay Updated:
Subscribe for exclusive policy updates, resources, latest news, volunteering opportunities, and more!