The pandemic sparked unprecedented challenges to our education system, creating the most obstacles for students who were already vulnerable. Everyone deserves access to affordable internet, and these days it's a necessity for families juggling online learning with virtual events, meetings, and other obligations. This is why United Way of Greater Los Angeles is partnering with the California Emerging Technology Fund's (CETF) Internet for All project, which includes collaboration with Everyone On (EO), to bring affordable broadband services to families who need them most.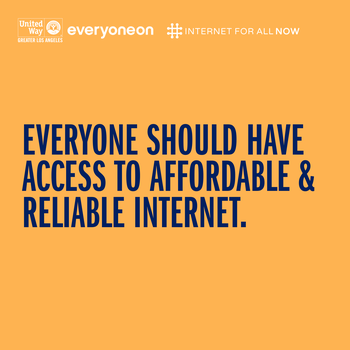 Closing the Digital Divide
CETF has a multi-pronged approach to reaching their goal of connecting every Californian to the internet. They forge partnerships and foster public policy to close the digital divide.
"We are working to make sure families are fully connected," said Marissa Canche, CETF Adoption Manager. "You can't conduct school work or business on a cell phone. You must have a home connection with a reliable device to really improve your quality of life overall."
Marissa explains that CETF partnered with EO because they are working on the same goals. "It was a natural partnership. We lean on them to create customized websites for our community partners."
EO offers the "Everyone On Locator Tool," which helps users find low prices on devices such as desktops, laptops, and printers along with free computer literacy classes. Marissa describes it as "a one stop shop for affordable everything: affordable connectivity, affordable devices, and free digital training." The intuitive portal is bilingual (english and spanish) and gives you the option to connect with organizations that can help you by phone.
Community Organizations and School-based partnerships
CETF and EO work together closely to ensure the customized websites specifically created for community organizations and schools are up to date, accurate and reliable.
CETF has established relationships with both LA county and city; along with 30 local school districts and 9 community colleges in order to get the word out about the valuable resources that EO is able to provide. They've also partnered with 5 statewide organizations. As they build these partnerships, they also create opportunities to access technology at a lower price.
UWGLA Education partner human-I-T, which repairs donated technology that would otherwise be headed to landfills, is a key local organization in this work, offering restored devices to families for prices much lower than market rate.
"Trust is key to getting many families to participate, and this is where our schools and community partners come in," Marissa mentioned. "Some parents are apprehensive about signing on because they think they're going to get really bad service, which isn't true." Families who sign up with CETF get the same connectivity and internet they would get by paying full price; CETF has just negotiated the price down. Parents who have received a hotspot from their child's school qualify for these services and they can keep these services at the same low cost even after returning the hotspot.
To date, 17 schools in Los Angeles County participate in the School2Home program. School2Home provides comprehensive support to underserved schools through effective technology integration in teaching and learning. Thomas Edison Middle School in Los Angeles is a School2Home school.
"Most parents speak Spanish and have little or limited English proficiency. From our experience, many parents feel at ease with phone texting and phone calls," said Vice Principal Arturo Martinez. "However, they struggle with more complex applications such as email or updating the LAUSD Parent Portal Account."
Parents often need additional help from a trusted source like their school to get fully connected. "For example, AT&T asked one of our parents to upload copies of personal documents and provided a link. This parent needed to make copies of the documents, create a PDF file and upload the document to a provided link," Arturo said. "This process wouldn't have been possible unless someone at the school site was there to support."
Staff at Thomas Edison received training from CETF staff so they could help families successfully navigate the EO portal and sign up for affordable offers in their community.

One parent describes the process of even getting on to the internet alone as being the first hurdle. "We didn't have internet and we needed it in our home. The school gave us the device and helped with WiFi, but the connection wasn't working," remembers Salvador Salcido prior to receiving affordable service through Everyone On. "It took some time to get connected, but we finally got on… Now my daughter is doing really well. She's adapting."
Despite the pandemic, Edison Middle School continues to stay accessible for parents to reach out for support. The staff maintains in-person office hours and staff are knowledgeable about affordable internet. The school has flyers on their website and provide information during monthly meetings about key resources for affordable connections and devices.
A Shining Light
UWGLA continues to expand our strategies to serve our most vulnerable neighbors even as COVID-19 has put a spotlight on the digital divide in a way like never before.
"It's never going to go away unless internet providers step up. They need to be more aware of the circumstances that many low-income families are under," Marissa said. "The Internet needs to become a utility like electricity or running water."
A reliable internet connection is necessary for children to continue their education without disruption. "When we were first introduced to the internet, it was a luxury. It is now a necessity. COVID has taught us that," Marissa stated.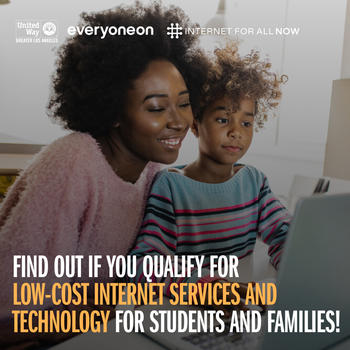 As we close this digital gap, we refuse to leave anyone behind. If you, your students or family, or any student or family you know needs access to affordable devices and broadband, please visit www.everyoneon.org/uwgla. (Note that families that received internet hot spots from their school are still eligible for Everyone On services.) Let's get everyone on.