Many people think the best way to celebrate Hispanic Heritage Month must include tacos, margaritas, and mariachi. While all of that is cool, we think the best way to honor Latinos and their contributions to Los Angeles is by recognizing what this community means to our economy, our culture, and the future we envision for our vibrant region.
Did you know nearly half of Los Angeles County is Latino? Out of the diverse population of our county, 4.8 million people are Hispanic or Latino. That's not just a statistic; it's the pulse of a powerful community. According to the latest U.S. Census data, Latinos are the largest ethnic group not just in our county but throughout the state.
Given the representation that Latinos have in our county and state, we are proud to work with fearless community partners including funders and donors, and the support of incredible individuals who like us, believe that there's no chance of prosperity for Los Angeles without ensuring the prosperity of Latinos an other underinvested communities.
Last month, we joined IDEPSCA (Instituto de Educacion Popular del Sur de California) in hosting their 6th annual "Block Party" Resource Fair. IDEPSCA is one of the organizations we proudly partner with, they do incredible work to support Latino immigrants to find job security, education opportunities, and other essential resources for them to thrive in Los Angeles. Our partnership with IDEPSCA and other community organizations is part of our shift to work closely and intentionally with community partners as we work with them to build out prosperity projects of collective ownership, a sense of belonging, and strengthening mutual aid efforts at the hyper-local level.
"We've been in the Pico-Union neighborhood for 26 years, working specifically to support migrant workers, especially day laborers and domestic workers. And this year especially, we partnered with United Way to help out and do a community asset mapping," said Maegan Ortiz, IDEPSCA Executive Director. "Pico Union needs a little bit of CPR, C to be celebrated, P to be protected, and R to be reimagined. And we're so excited that we're reimagining it with United Way."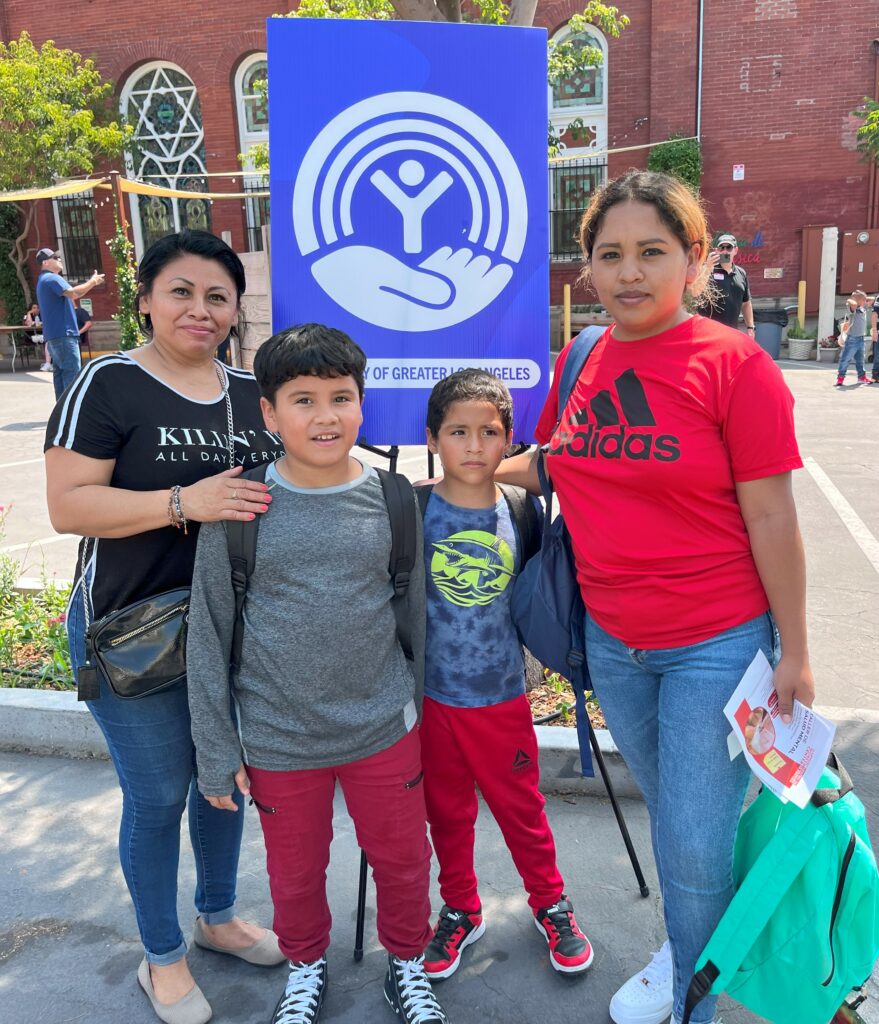 "Part of the work that we're doing now is to leverage the existing strengths of communities to build prosperity projects owned by the community, for the community, so we are very excited to start this work in Pico-Union in partnership with IDEPSCA," said Rudy Melendez, UWGLA Community Prosperity Network Manager.
During Hispanic Heritage Month, we will also be hosting our first annual Way2Success Community College Resource Fair on September 23 in Pico-Union in partnership with LA Red Shield Community Center, Los Angeles Community College (LACC) and Los Angeles Trade Community College (LATCC). The fair is an opportunity to offer community college students academic support, mentorship, and other essential resources to achieve their college educational goals within 2-3 years.
Nearly 60% of the student body across the nine Los Angeles Community College (LACCD) colleges are Latinos. Unfortunately, incredibly low transfer and graduation rates persist for community college students, which is part of why UWGLA has focused our efforts on community college support as part of our prosperity work.
"We believe the way to success for community college students, starts with being connected to essential resources such as stable housing, food, healthcare, and academic support," said Norma Rodriguez, Director of Community Prosperity and Ownership at United Way of Greater Los Angeles.
"As the first person in my family to graduate from college I know firsthand what having access to these supports means for studentsIt's a big deal not just for them and their families but for their entire community, and we want to invest in those organizations that work to make sure that more Latinos can have an equal opportunity to prosper," Rodriguez said.
Latino communities contribute so much richness to our Angeleno culture and we believe the best way to celebrate them is by ensuring their share of prosperity in our region, which they greatly contribute to. We are proud to support the hard work and advocacy of community organizations across Los Angeles that ensure pathways to success for Latinos.
To learn how to make an impact in the community sign up for our monthly newsletter or join the LA Giving Community.

Latino culture isn't just a side dish of L.A. life—it's a main course, adding different flavors, histories, and traditions that enrich us all. This Hispanic Heritage Month, let's move beyond the clichés and help secure a prosperous future for our Latino community. We're doing our part, and we invite you to join us in uplifting those who bring so much to our beautiful, diverse city.
Ready to make an impact? Sign up for our monthly newsletter or join the L.A. Giving Community today. Together, we can boost prosperity for Latinos and make Los Angeles an even more incredible place to live.
STAY CONNECTED WITH UNITED WAY OF GREATER L.A.

📱Follow Us!
Instagram | Facebook | Twitter | LinkedIn | TikTok | YouTube

📩 Stay United, Stay Updated:
Subscribe for exclusive policy updates, resources, latest news, volunteering opportunities, and more!