I love LA, but I didn't always feel that way about it.
Before I came, I'd always heard one of two things – that it was paradise – In 'N Out, Disneyland, beaches, palm trees. Or that it was the apocalypse – a fortress of sprawl, choked by smog and gridlock. Neither interested me.
"But the reason I'm here, almost 20 years later, is that when I arrived, it was entirely something else. It was a region firmly in the middle of those extremes: with immense challenges but even bigger dreams: a million trees, 100,000 living wage jobs, a concrete river waiting to break out its green banks. It wasn't filled with rich people as much as it was filled with rich possibilities."
As someone born outside of America, I'd always wondered where I should be. But in LA, I'm at the intersection of America and the world. Los Angeles and Europe feel worlds apart, but the hillsides of Northeast LA and the corner of McArthur Park could be the backdrop for many scenes in the Southern and Eastern Hemispheres.
I could also be myself. I saw people who looked like me succeeding and being celebrated – not just as the one Asian representative but as respected leaders in their own right. I'd never seen that before, and it allowed me to find my own voice. I was finally home.
I share this homecoming story with so many others. Families and entire communities have made Los Angeles home for generations. Single neighborhoods have been home to Jews, to Mexicans, to Japanese, to Black residents, each leaving a beautiful imprint for the next to fill in.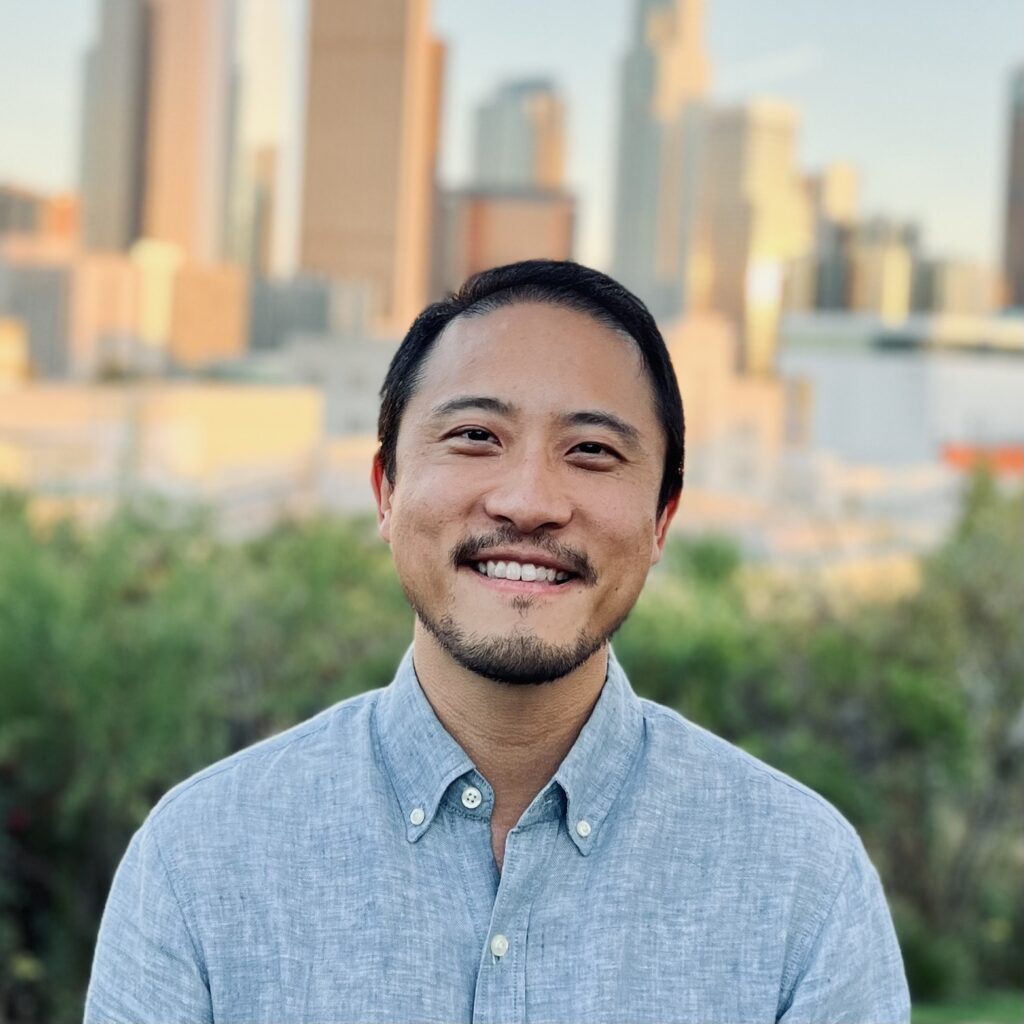 Chris Ko, Vice President of Impact and Strategy
But as much as we celebrate our diversity, it's often superficial – farmworkers, bankers, teachers, small business owners, cooks, port drivers, seamstresses, cleaners, actors, and developers – we've all found our place, but those places are often separated from each other. Diversity is something we're proud of but experience more in cuisine than in community. We drive by neighborhoods and mostly see it in our own movies and TV shows.
10 years ago, our organization underlined this separation. In the Tale of Two Cities, we showed how separate but equal doesn't work any better today than it did in 1954. And then we went to work on the biggest areas of inequity we saw: housing, education, and economic mobility.
This focus helped us accomplish incredible things with you, creating real pathways out of poverty. We walked together, we voted together, we created new solutions together. We created the kind of magic together that we typically only feel in championship parades.
But for all we've done together, the Global Pandemic and Uprisings of 2020 made it all feel too small. It laid bare the depth of our structural inequities and left us asking bigger questions.
For me, birthdays have always been a time of reflection and remembrance. It's also a time to get together with those I love and respect; when I sit with those who have given me life in all its forms. It's not a time I'm out looking for answers, but I often leave with them.
It was on the eve of our 100th birthday that we created the Pandemic Relief Fund, to help our community survive with the barest of essentials. There was no bigger plan then, it was for what we named it: relief. With so many services and spaces out of commission, it felt critical to sustain every life-saving effort possible.
But when I visited our partners, I saw something I didn't expect: hope, energy, possibility. Neighbors helping neighbors, rich and poor, together in one space re-forming relationships broken long before COVID came. And as unprecedented as this all feels, we've been here before, 100 years ago.
Before 2020, we had 1918, our last global pandemic on top of a World War. And while devastation doesn't always lead to rebirth, it allows for it. So it's no surprise that this terrible time spawned the start of core civic institutions – the ACLU, the League of Women Voters, and the Urban League in Los Angeles.
And it was during this time that United Way began as a collection of over 30 neighborhood-based campaigns across LA County seeking to improve their communities. Then, like now, the immediate charge was restoring a human layer of relief and support in crisis, but the reason all these groups came together was also to reclaim a new future. And after wading through the Great Depression, they had a New Deal with social security fundamentally resetting the baseline of protections for all Americans.
That same imagination is brewing today.
In thinking about what's next for us, we've been asking you – hosting and attending listening sessions, sending surveys, and having direct conversations to unpack our observations and experiences.
You've told us that we have to re-focus on emergency needs like never before: food lines have never been longer in our lifetime, rents have never been more tenuous, paying for gas has never been more expensive. But we had the same number of responses calling for wealth building and ownership as ways to survive and make it beyond the next day. How did both recommendations come from the same conversation?
There's a strange thing that happens when you lie in bed hungry: you don't just think about your next meal or a better job, you think about the possibilities of a different world.
In their most recent book, "Solidarity Economics," Dr.'s Manuel Pastor and Chris Benner challenge us to move beyond treating the markets like a deity that we must appease or avoid. Instead, they raise a call to reclaim the economy as our economy. And there couldn't be a more important moment to take up this charge.
For all the obituaries written about Los Angeles, our future is bright – new roads and rails are opening, future technology is being designed here, and the world is coming to see us on bigger and bigger stages. But who will own that future success, and who will be here to enjoy it?
When we went to work on housing, on jobs, on a better education, we were focused on the root causes of poverty, and we fought those fights at separate times with separate coalitions. But 2020 reminded us that those roots wrap firmly and consistently around the same households and communities. It's the mother who is struggling to pay rent today whose child was not able to log-in consistently during virtual classes whose hours just got cut at her workplace.
"That's why we're evolving our focus from the core elements of poverty to the two main experiences our communities are seeking for themselves: to find support in times of crisis and to build shared prosperity. Focusing on these two goals instead of four separate policy areas will allow us to center the people who have always been at the heartbeat of our work together. "
LA's greatest natural beauty has always been its people. We come for the weather, and we stay for one another.
And it's not just the struggles but the victories that lead our way forward.
Communities of color have found ways to pool resources and assets for over 250 years to survive in LA. As bad as rates of homelessness are, they would be even higher but for the creative ways Black and Latinx households have supported each other by putting three and four full-time wages together to live within a bus line's distance to work. They have lent to each other to start small businesses and pay off medical bills, forming alternatives to insurance and credit. And during COVID, they have gone from cooking for their households and hotel guests to feeding entire communities
As LA faces its golden hour, they deserve an opportunity to own a share of LA's future success as well – new ways to pool resources to build affordable housing in their own neighborhoods, new avenues to turn renting into owning, new tools to create businesses together that bring fresh foods back to their blocks.
Our economy. Our community. Our future.
Over the last several years, I have been fortunate to be a Stanton Fellow with the Durfee Foundation and experience alternative visions of life around the world. Recently, I visited Mondragon in the Basque Country where many businesses are cooperatively owned, and our host, Ander challenged us with a simple question: "What does it mean to be rich?
His answer: "All my extended family across multiple generations live closeby. I see them regularly. I have a stable job where I am a worker-owner, and I have the time and resources to enjoy my life outside of work. I am rich."
For Ander, a bigger salary was not the finish line – it was a life that he could meaningfully enjoy with those he loved.
May it be with us.
May we not only support each other through crisis, may we build true prosperity beyond wealth. And may that prosperity be shared – built together and enjoyed together.
Join us in writing this story so that in 100 years future residents can speak of how the seeds of a new and greater Los Angeles were planted after the last global pandemic of 2020.
From the Antelope Valley to the San Gabriel Valley, from the Westside to San Fernando Valley, from the South Bay to the Gateways Cities and South LA, all 88 cities and every single region.