Reflections from Elise Buik
Yesterday the world was hit with the devastating news of the sudden deaths of NBA Legend Kobe Bryant, his daughter Gianna, along with her basketball teammates Payton Chester and Alyssa Altobelli, Payton's mother Sarah, Alyssa's parents John and Keri, assistant basketball coach Christina Mauser and pilot Ara Zobayan, due to a helicopter crash in Southern California. There are not enough words to express the enormous grief and sympathies I, and those at United Way feel towards those lost, and the families and loved ones they leave behind.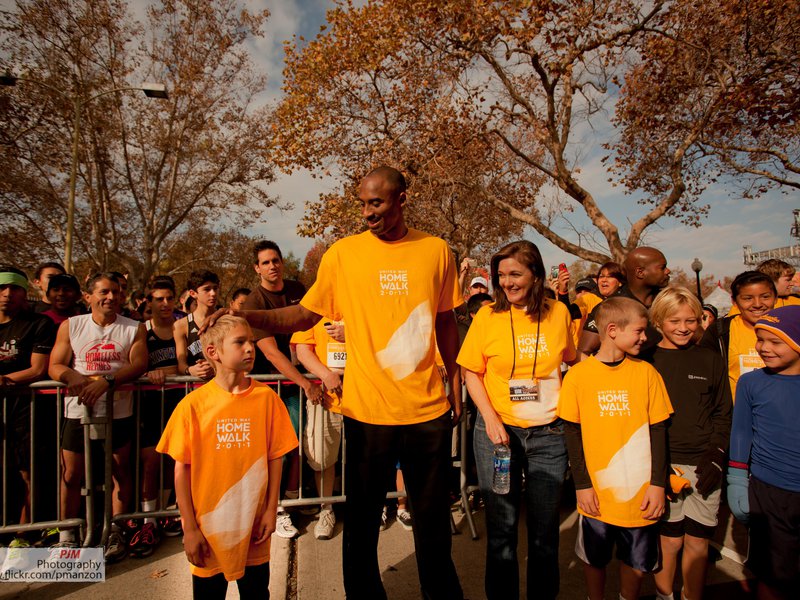 I had the privilege of working with Kobe Bryant for several years starting in 2011, when he served as Honorary Chair for United Way's annual HomeWalk, a run/walk to end homelessness in L.A. County.
Kobe led with humility and compassion, championing the cause, rallying around those who needed help, inspiring thousands to do more- and be true heroes by helping others. He was a visionary leader, being one of the first to lend his support and status, catapulting a spotlight on the homelessness crisis, and ways people could get involved to help those suffering on the streets.
Because of his leadership, HomeWalk in 2011 reached some of our highest numbers with over 12,000 participants, and over $1.2 million raised- dollars that unlocked the $1 million Conrad N. Hilton Foundation Match.
Kobe's passing, along with his daughter and all on board who perished, fills us with unending sadness and loss. We join all in mourning and stand united in our thoughts of strength and support during this time. We are forever grateful to Kobe and Vanessa Bryant for sharing their deep interest in the plight of homeless youth and families, having created the Kobe & Vanessa Bryant Family Foundation. Our heart goes to Vanessa and her daughters. United Way, HomeWalk and those we serve will never forget the magic Kobe brought, his impact was great, and his legacy will live on.  ~ Elise Buik