For our unsheltered neighbors, finding shelter goes beyond having a safe place to stay. It can also be where they connect to critical services and programs and begin to heal as part of their journey to a permanent home.
Over the last two years, the United Way of Greater Los Angeles' Shelter Improvement Initiative, funded by the Conrad N. Hilton Foundation, has invested $5.9M into 52 shelter sites across Los Angeles County to create safe and dignified spaces for people experiencing homelessness.
Those investments have inspired shelter providers to re-think and upgrade their shelter sites by using trauma-informed design elements to transform core spaces like community rooms, dining, sleeping areas, and restrooms into areas that promote healing and comfort for staff and clients. These enhanced spaces create an environment that allows clients to more deeply and consistently engage with programs and services that promote individual well-being and connections to long-term housing.
In total, some 4,600 shelter beds across the county will be impacted by the investments made through the Shelter Improvement Initiative. Providers operating shelters of all types, from congregate to non-congregate spaces, are part of the project with some operating specific types of shelter programs for veterans and domestic violence survivors.
The LGBT Center Los Angeles received funding to remodel case management offices and classrooms in ways that apply trauma-informed design principles and promote dignity and security among its clients. Funding will also support new dorm furnishings, dining rooms, media rooms, and case management offices.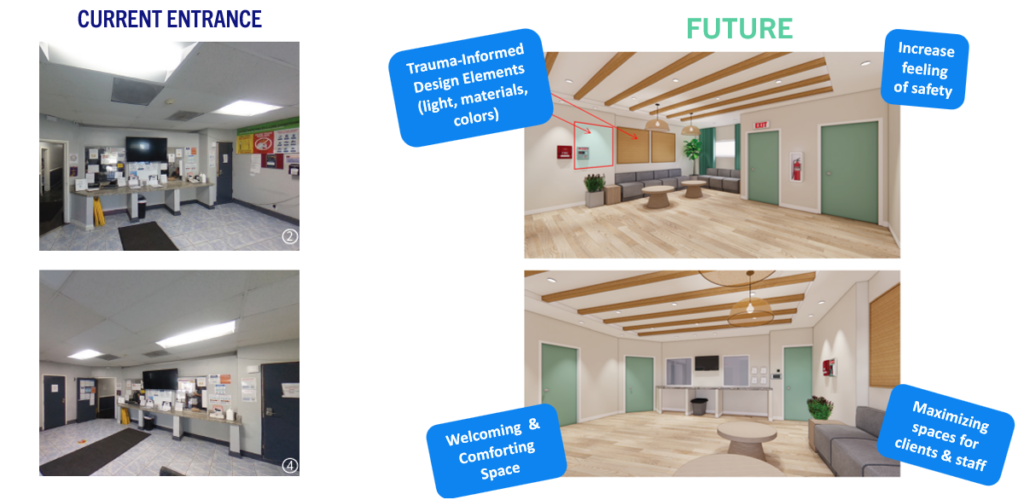 "Thanks to the Shelter Improvement funding from United Way of Greater Los Angeles, we have not only been able to improve our center here that houses LGBTQ+ youth experiencing homelessness, but we've also continued to create a space where folks can feel safe, affirmed, and most of all, healed from the traumas they have experienced," said Ariel Bustamante Capacity Building Manager at LGBT Center Los Angeles. "At the Center, we know all too well that LGBTQ+ people especially LGBTQ+ youth, and people, who are Black, Indigenous, or people of color experience homelessness at disproportionate rates."
The most recent homeless count in Los Angeles County showed an increase of 14% in the number of unsheltered people to 55,155.
"Permanent housing remains the solution to homelessness, but for many people, shelter is an important stop on the pathway to long-term housing," said Tammy Marashlian, Strategic Investments Program Officer at United Way of Greater Los Angeles. "United Way of Greater LA's Shelter Improvement Initiative is strengthening existing shelter sites to promote better experiences and outcomes so that we can shelter and ultimately house more of our unhoused neighbors."
First to Serve is a nonprofit serving single women and women with children that provides supportive housing facilities and domestic violence housing, which was awarded funding from the Shelter Improvement initiative.
Cheri Weeks, Chief Operating Officer at First to Serve, said that even though the improvement work is still in progress, the goal is to provide guests with a more personalized and private experience when meeting with their case managers. She also mentioned a children's site in the plan to create a space for children and their parents to enjoy together.
"Our [award] will be used to improve various spaces of our women and children's shelter.] …The case management offices, front lobby, green space, and cafeteria will be improved [and] an accessible children's playground and adult green space will be created," Weeks explained. She expects the award will benefit up to 145 men, women, and children experiencing homelessness in South Los Angeles.
In addition to grant dollars, a cohort of Shelter Improvement partners received project management and technical assistance support for their larger-scale shelter renovation projects. Weeks highlighted the added value of the shelter improvement award such as being able to hire top-notch consulting services when it comes to trauma-informed design.
"When we received the grant for our adult facility, we were really excited, but I think we were even more excited when we realized that we would be working with some of the world's leading trauma-informed designers," Weeks said. "We are so pleased that they do this work and excited for the construction to begin. We're thankful to United Way for bringing the work where it is most needed!"
STAY CONNECTED WITH UNITED WAY OF GREATER L.A.

📱Follow Us!
Instagram | Facebook | Twitter | LinkedIn | TikTok | YouTube

📩 Stay United, Stay Updated:
Subscribe for exclusive policy updates, resources, latest news, volunteering opportunities, and more!