Several months ago, 80 year-old "Amy" lost her sister, with whom she lived and shared expenses. In addition to the emotional toll, she was struggling to pay her bills and afford basic necessities on a fixed income of $812 a month from Social Security. Then, in February of 2021, Amy reached out to Chinatown Service Center (CSC) after hearing from a friend that they would be able to provide her with assistance.
Amy's case manager immediately assessed her needs and helped her to apply for assistance to pay her utility bills. She was approved to receive $200 to pay her gas bill. Her case manager also referred her to other benefit programs such as CalFresh for food assistance.
With help from CSC, she can now stretch her dollars further and she feels less stress. Amy is one of the thousands of clients throughout Southern California getting help with her utilities through programs administered by United Way of Greater Los Angeles (UWGLA) in partnership with community-based agencies and supported by Southern California Edison (SCE) andSoCalGas.
Chinatown Service Center's Commitment
CSC has been serving people like Amy from Chinatown and the surrounding area for the last 50 years. The agency has grown from just two volunteers working in the church next door to a one-stop shop for local residents who need assistance.
The agency includes both a federally qualified health center and a behavioral health center with clinical staff who speak Chinese and Spanish. Their youth center offers a range of programming including free SAT prep classes.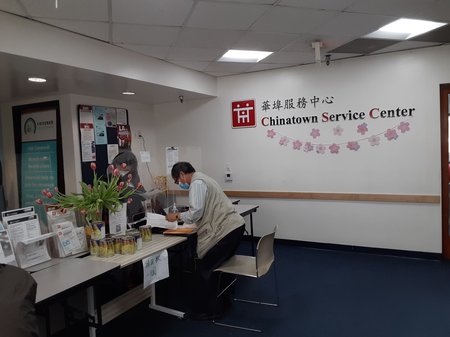 "Clients will come to see a doctor and find out about our other other programs and support," said Kerry Situ, Director of Programs. "During the pandemic we've seen an increase of at least 30-40% in community members coming to the door and asking for help."
Despite the challenges of COVID-19, CSC never closed their doors. They pivoted to online assistance, but continue to provide in-person services, as their client population does not have a high comfort level with technology.
In addition to administering the utilities program, United Way helped develop CSC's community asset building, financial management, and small business development program over more than a decade of partnership. Kerry even spoke with pride about her participation in Homewalk—she has taken home a champion title for the last six years.
"United Way is very good to the community," Kerry stated. "They work diligently to make sure all the applications we send in are taken care of. Without the United Way, we would not be able to help as many community members as we do now."
Kerry remarked about how beneficial the utilities program has been, especially during COVID when many clients struggled with job loss and other challenges.
"Having the ability to help with $100 or $200 dollars may not seem like much, but it helps a lot," Kerry said. "It gives people peace of mind. They don't have to worry about being behind on payments or having services shut down. They can prioritize their money on food and childcare, and not worry about keeping their heat, AC or electricity on."
On a daily basis, CSC helps about 10-20 families a day with utility bills.
"We are so very grateful for the partnership of Edison and the Gas Company and all of the other organizations who help us provide support to the community."
Utility Companies Continue to Step Up
Since 1982, United Way of Greater Los Angeles has partnered withSCE and SoCalGas to provide utility assistance through 80 community-based agencies throughout ten Southern California counties to customers facing financial hardship.
Prior to the pandemic, these programs were offered seasonally, the Energy Assistance Program (EAP) in summer and the Gas Assistance Program (GAP) in winterm, each lasting about three months. As household needs increased, both companies began to provide services year-round. Each program also increased the total amount available per customer to $200 from each organization (and up to $300 for all electric accounts). Additional support is available to those directly affected by the pandemic due to job loss, closures, and illness, and for seniors.
Since the pandemic began, SoCalGas's support has grown tremendously, to a total commitment of $300,000 in assistance for the full year. The utility company also solicits donations from customers and employees. This has helped more than 7,000 families in the last 12 months, a significant increase from last year.
SCE also expanded their service to year-round and has been able to help nearly 10,000 families over the course of the pandemic. They committed to $1 million on top of customer and employee donations.
United Way is a proud partner of SoCalGas and SCE. We will continue to work diligently to help remove the burden of financial uncertainty from our communities. If you or someone you know is having difficulty paying your SoCalGas or SCE bill, click here to learn more about theutilities fund to see if you qualify today.