No one likes wasting food, especially when we know many people suffer from food insecurity in our communities. Luckily, community organizations like Hollywood Food Coalition (HFC) work around the clock to rescue food and donate it to people in need.
Bryan Pauquette, community exchange director for HFC, says receiving funding from United Way of Greater Los Angeles has made a difference. "It has been very helpful for us. We have been able to take an idea and turn it into something real."
From the farm to wholesaler, to grocery store, to the bakery, a mom-and-pop store, or individuals, HFC rescues food that would otherwise be thrown away. Instead of sending it to landfill, its community dinner program serves 200 to 250 meals every night, all from rescued food, seven days a week, 365 days a year.
"Our community exchange program is a warehouse that houses all of our rescued food that's donated by various sources. We donate to 230 small and medium-sized nonprofits that can't often collect from traditional food banks," said Arnali Ray, Hollywood Food Coalition executive director.
HFC also runs a community wellness, and a community exchange program. Although many of those who benefit from these programs are unhoused people, it serves anyone who is food insecure.
"We throw away 30 to 40% of our fresh food in the country, which could feed every single hungry person multiple times over. We really believe that there's no reason to be throwing this fresh food away. There's no reason for hunger to exist. If we just build the infrastructure, We'd be able to feed everyone in L.A."

Bryan Pauquette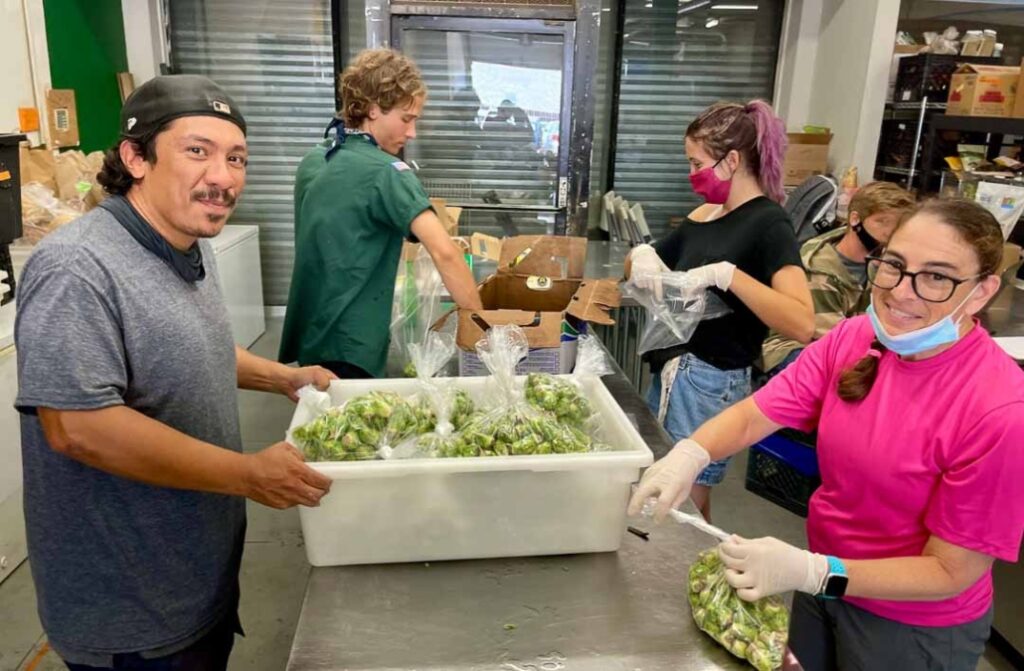 Courtesy: Hollywood Food Coalition
Ray says her organization has rescued 3 million pounds of food since they started the community exchange in 2020. "Through the community wellness program, which is open 7 days a week, after work hours, people can also find other vital services such as housing, navigating mental health services, health services, clothing, and other hygiene supplies."
As one of the 87 grantees that United Way of Greater L.A. is funding with a $2.85 million investment in grassroots community organizations, Hollywood Food Coalition is using the support to connect people through food.
"The work that we do at Hollywood Food Coalition is really about building community. We use food as the gateway. Through a nice meal, through sitting down and getting to know each other. We really get to build a relationship, build trust and find out what people are going through," Ray said. "It's a very human experience, a way to just connect human to human."
Hollywood Food Coalition
What does the future of L.A. look like to you?
Ray: I moved to L.A. 15 years ago and when I moved here, I came here because there was a lot of diversity, a lot of optimism. The future of L.A. should be a place where people of diverse backgrounds, perspectives, income levels, any ethnic, racial, and demographics… everyone can come here and afford to live here and that's what I would love to see.
Why should people care about their neighbors?
Ray: People should care about their neighbors because it's the right thing to do. You know, we're humans. I think we can understand and relate to each other to some degree. But no one wants to see anyone living or dying in the streets. And I think we owe it to each other to make sure that we're taking care of one another.
How do you think United Way L.A.'s investments impact the community?
Ray: United Way really looks to find creative solutions without making it burdensome on the organizations. They work to collaborate, and really dig into what is needed without putting up too many restrictions and I really appreciate that about United Way. It's definitely a collaborative partner. Hollywood Food Coalition is a small organization that has grown over the last several years, United Way has been able to really help us build capacity consistently across our programs. Over the last few years, it has helped us be consistent and responsive in the community.
Can you give an example of how the funding from United Way L.A. is helpful to HFC?
Pauquette: As we were building our warehouse, we were really strapped for resources, and the funding from United Way was so crucial to us getting supplies and equipment. That was really essential for us to be able to store the food and actually put this warehouse space to good use. And so with this funding, we're able to rescue more food, store it appropriately and share more food. For example, we are able to purchase boxes, which we turn into grocery boxes for students facing food insecurity and their families, which has been a huge new program that's become really popular, and it has actually become one of our more successful initiatives, with more nonprofits and schools coming to us for this grocery box program, which started because we were able to get the funding from United Way.
What is one problem that you want to solve?
Pauquette: There's an influx of food that could be rescued, but the infrastructure in terms of warehouses, cool storage, and vehicles, doesn't exist. If we could get those things in place, we could build the infrastructure to capture all that food and feed more people.
"​​Los Angeles is huge. It has so much promise, it has so much hope… We should continue to build on that and make it an even better place to live. United Way continues to be that voice in the community that is always looking for a better Los Angeles."

Arnali Ray
– Esme Fabián