With the vision that wellness is a human right every person should have access to, It's Bigger Than Us (IBTU) is bringing healthcare equity with a holistic approach to South Los Angeles.
"IBTU stands for health equity in providing solutions to the community by providing community activations, youth programming, listening sessions, volunteer opportunities, and also mutual aid support," said Elizabeth Padilla, It's Bigger Than Us Chief Operations Officer.
One of the current programs is the distribution of healthy meals to 100 residents once a week, as well as access to vaccines and free laundry services.
"What we mean by equitable is providing meals that are actually nourishing, nutrient-dense and healthy," Padilla said. She noted that access to healthy food is not the only goal for the organization but also access to mental healthcare, and creating spaces for people to be physically active and environmentally healthy.
"Helping people take care of every essential aspect in their lives is what sets them up for a successful (life) journey."
Maria Rubio, the IBTU Associate Director of Community Impact, thinks Los Angeles' future should be one that provides all the social and environmental factors that impact the community.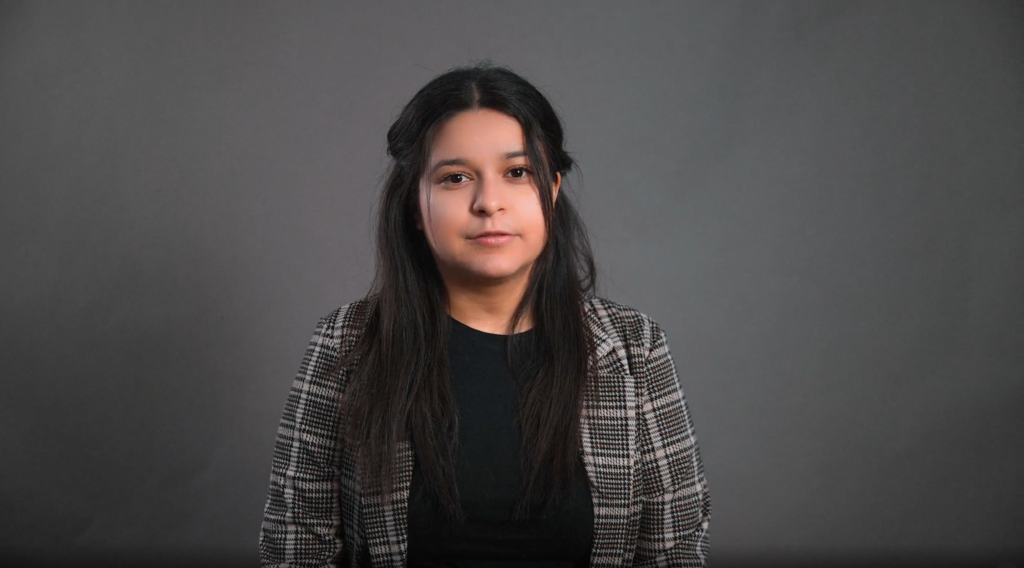 "I would like to see quality healthcare for all individuals. This is something that a lot of individuals have low access to, and this is important because people shouldn't have to be at the very end of their lives to receive care and assistance."

Maria Rubio
Why should someone care about their neighbor?
Padilla: I think we should care about our neighbors since we're in this together, we build community by coming together, and making sure that we provide solutions. Whether it is your neighbor, whether it is an organization, whether it is a public service, we are all in this together to provide solutions.
What does creating shared prosperity mean to you?
Padilla: I think what creating shared prosperity means to me is making sure that everybody has a seat at the table. That way everybody can benefit from those prosperities and whatever it is that comes out of those resolutions, being part of the solution but also having skin in the game.
How is IBTU supporting people in crisis?
Padilla: Helping people that are in crisis is… we actually see it on a weekly basis for our food distribution and every school that we attend. We hear stories about how some folks cannot find shelter. We also find stories about veterans that have had to live on the streets. We also find neighbors that tell us how they feel unsafe whenever they see folks having to camp out and that they worry for their own safety. And so for us, we want to make sure that we're providing folks with different solutions in their crisis depending on where they're at. And whether it's a youth or whether it's an unsheltered family. We want to be able to support them during that journey and apart from giving them food we want to provide them direct lines to where they can get services, where they can get help. We understand each person has a different journey and needs a different solution, so we pride ourselves in being able to provide those very unique solutions based on the needs of those individuals.
How would you describe the partnership with United Way?
Padilla: One word I would use to describe United Way is caring. every staff member, everybody in their team that we've ever interacted with has always been so caring and kind and understanding of the mission of the purpose that we're all here today to be able to service our community and be able to service those that need our help.
What have you been able to accomplish with the support of United Way?
Padilla: I'm proud to say that thanks to United Way we're actually going to be able to secure a building that's going to be able to house our programs and continue to expand our food distribution. Also, to provide other partners with a safe space to come together and offer their services, we also are able to give vaccinations on a daily basis and be that constant organization that people can rely on.
What are some of your organization's recent wins?
Padilla: We have been able to do our third annual back-to-school event where we were able to distribute 10,000 backpacks to students as well as provide them healthcare access, job fairs, and also different activations for them to flourish and also do career explorations.
We also held our winter wonderland at the Baldwin Hills Crenshaw, where we handed out 15,000 toys. We're providing activations for folks to nourish their brains and their minds and their bodies. Another thing that we're also very proud to announce as a partnership is we actually have been able to receive a grant to support Black students' achievements and be able to support students of color when it comes to their career pathways and helping them achieve their academic goals. These recent wins let us provide a safe environment because that's one thing we constantly hear, day in and day out from our community, that they need more safe spaces to be healthy, to be active, and to be with family. We're also focusing on academics, having students of color that face barriers day in and day out, and making sure that they're putting themselves in a position where they can achieve their goals and dreams and be able to break the cycle of poverty.
Why is breaking the cycle of poverty important?
Padilla: The reason why it's so important to break the cycle of poverty is that it's been found out that students that have been able to go into universities have been able to get higher paying careers and have been able not only to help themselves out but also provide for their families and also give back to their community. So it is a full circle and this is why we focus on students because they are definitely the future and they are the ones that are going to come back to these communities and better them for themselves and their future generations.