LOS ANGELES, CA —The newly formed LA County Affordable Housing Solutions Agency (LACAHSA) kicks off its first board meeting with elected officials representing all 88 cities of the County and citizen experts. The agency is primed to fundamentally change how LA approaches housing as a region by preserving, protecting and producing affordable housing.
LACAHSA Board elected leadership to spearhead the agency including Los Angeles County Supervisor Holly Mitchell as chair, Long Beach Mayor Rex Richardson as vice chair, Weingart Foundation CEO Miguel Santana as second vice chair, and Zerita Jones as interim chair, oversight committee.
"I am honored to serve as the inaugural Chair for LACAHSA," said newly elected Chair Los Angeles County Supervisor Holly J. Mitchell. "The Los Angeles region is at a pivotal point where we can build on the progress made in our homelessness response with increased attention and resources towards housing solutions. LACAHSA addresses two key contributing factors to the homelessness crisis – the need to prevent vulnerable residents from becoming unhoused and the need to scale up affordable housing options. With elected leaders from the county and multiple cities being joined by advocates and experts at one table, we have an opportunity and responsibility to make a real impact in getting more people dignified housing."
In a decade, LA County has lost 200,000 housing units that rent for less than $1,000 per month, which has greatly contributed to the local homelessness crisis. For the first time ever, elected officials across LA County are locking arms to meet the scale of our housing needs. LACAHSA enables them to work together and build a coordinated strategy.
"The Los Angeles County Affordable Housing Solutions Agency is a groundbreaking initiative that will transform how we address the housing crisis in our region,'' said Long Beach Mayor Rex Richardson, who was elected to serve as Vice Chair. "This agency will enable us to work together across all 88 cities in the county and leverage new financing tools and best practices to prevent homelessness, protect renters, and generate affordable housing for our most vulnerable residents."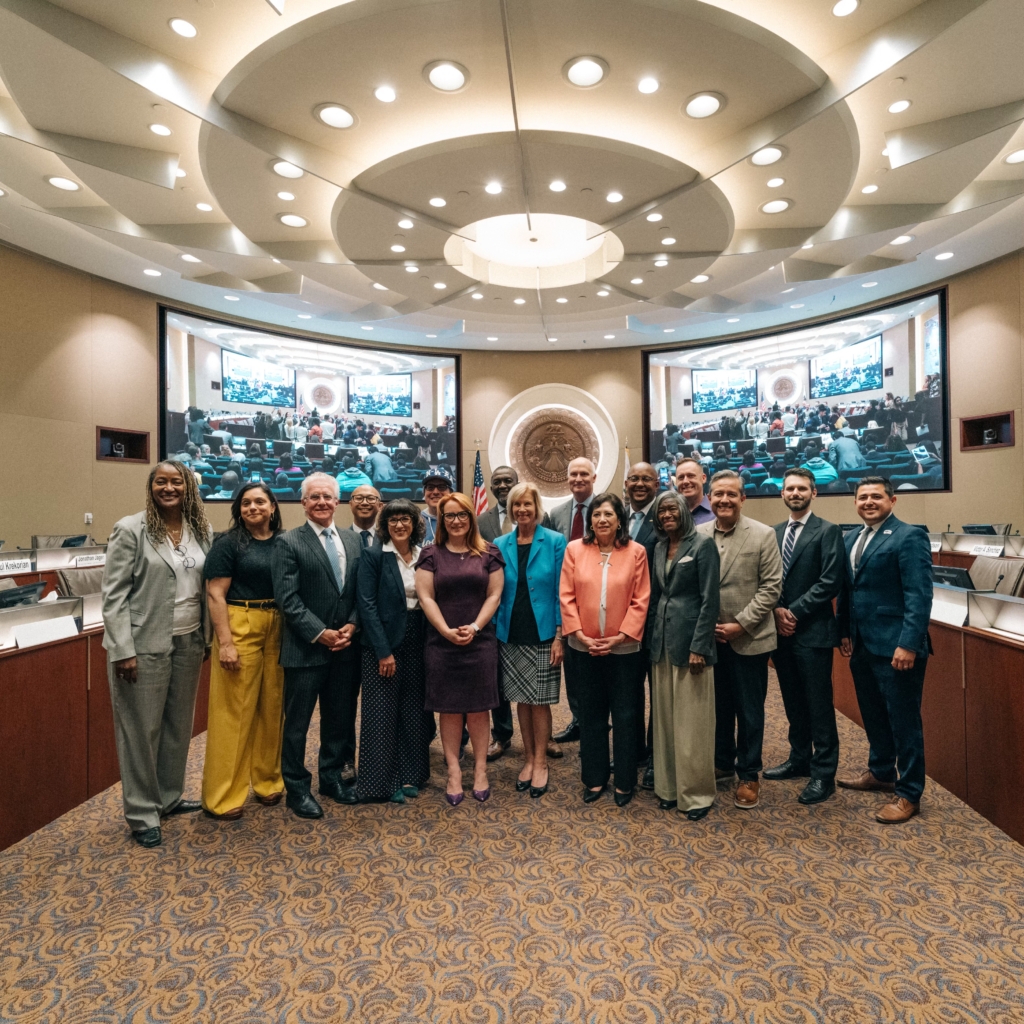 Weingart Foundation CEO Miguel Santana, elected as second Vice Chair, gave succinct remarks that captured the emotion in the room, saying "Let's get to work."
LACAHSA has the power to activate new financing tools for affordable housing that will incentivize developers to keep people in their homes. The first breakthrough tool is property tax abatement through the state welfare property tax exemption that allows housing developers to enter into joint development agreements with LACAHSA. Guaranteeing quality affordable units long-term grants the project a property tax exemption, which encourages developers to keep rents affordable instead of pushing them higher at all costs. This is modeled after an effort in New York City that has been used since the 1960s to build affordable housing that hundreds of thousands of people live in.
"Everyone in Los Angeles knows there's a housing crisis, and until now, no one has coordinated a regional response—but that changes today," said inaugural board member Jed Leano, a Claremont City Councilmember. "No single solution and no single city or official can solve a problem this big—but the promise of LACAHSA is that all of us together can create the change that all of us need."
LACAHSA was created last year through state legislation (SB679) sponsored by then California Senator Sydney Kamlager. LACAHSA is modeled after similar initiatives across the globe to scale up regional housing production and preservation from New York, San Francisco, and Singapore. In Singapore the public housing authority has completed more than 1 million units since 1960, housing 80% of Singapore residents and providing financing that has helped around 90% of them to own their home.
"Every day, people in Los Angeles hit the limit of the pressure they can stand on their housing situation," said LACAHSA board member Almas Sayeed, Vice President of Public Partnerships at the Liberty Hill Foundation. "They get evicted unfairly, they get pushed to overcrowd past the point of health and safety, they move hours away from their work or into their cars. LACAHSA will help us build the homes and offer the help that families on the edge of the housing crisis so badly need."
In its first year, LACAHSA will focus on building a strong foundation, starting with recruiting an interim CEO, beginning housing preservation work and driving a countywide conversation to establish an operating framework for the agency. In the coming years, the agency will establish a funding strategy and activate eviction protection tools such as long-term rental assistance, income assistance, and access to legal counsel at the scale of the housing crisis.
###
The L.A. County Affordable Housing Solutions Agency was created to make housing more affordable, help people stay in their homes, and increase housing options for people experiencing homelessness. It is a regional organization focused on all of L.A. County with leaders from across the county, and a single CEO, is accountable enough to cut through red tape so we can do more than ever before. More information at https://lacahsa.la/.